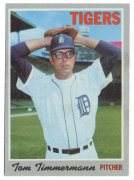 Since I only have one brother who has a birthday during baseball season (another brother has had
one game
played on his birthday) and since he has the same name as a former big leaguer, I thought I'd take a look at the best game pitched by former Tiger and Indian
Tom Timmermann
.
Although he came up to the majors as a reliever in 1969 at age 29 after spending what likely seemed an eternity in the minors (most of it in Toledo, where a young Christine Brennan idolized him), Tom Timmermann did start 44 times in his career. On June 4, 1972, he pitched his best game ever, a 4-hit shutout against the Minnesota Twins at Tiger Stadium. It was a game score of 84.
There wasn't a lot of time wasted in this one as Timmermann and Twins starter Bert Blyleven finished in 1:54.
Timmermann retired the first 11 Twins batters in order until Rod Carew singled in the fourth. Carew got another single in the ninth and Eric Soderholm and Steve Braun also had singles. Timmermann walked one batter (Danny Thompson) and struck out six, including Bobby Darwin three times. Darwin would strike out 145 times in 145 games in 1972 while drawing just 38 walks.
The Tigers would win the game 3-0 thanks to a 2-run homer by Mickey Stanley in the 7th and then add a run in the 8th on an error by Thompson.
Timmermann would stay in the Tigers rotation through July. On July 23, he had a disastrous start against Texas, retiring only 2 of the 6 batters that manager Billy Martin left him see. And the 1972 Rangers were really bad, finishing the year 54-100 and batting .217 as a team.
And Timmermann hadn't been pitching all that well in July aside from that game, posting an ERA of 5.32 for the month. And Billy Martin opened up his doghouse. And no one ever got out of Billy Martin's doghouse alive, except for Reggie Jackson.
Timmermann pitched seven times in August, making three spot starts. Then he pitched twice in September while the Tigers were battling with the Red Sox and Orioles for the AL East lead. Martin let Timmermann get into the final game of the season on October 4 after the Tigers had already clinched the division.
I had thought that Timmermann had been added to the playoff roster for the Tigers and Martin just never used him. It's hard to say. The Tigers did use 23 players in the series, including 8 pitchers. I guess Martin didn't even trust the guy to throw at Bert Campaneris' ankles and instead entrusted that task to Lerrin LaGrow.
In 1973, Timmermann was sent to Cleveland as part of a trade deadline that sent Ed Farmer to Detroit. He would pitch one more year in the majors in 1974.