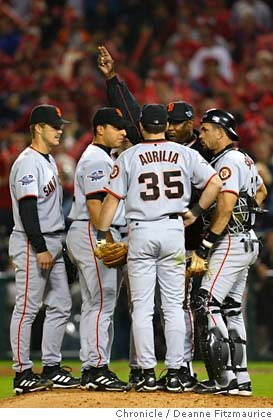 All good things come to an end. So too is this blog. You can judge for yourself whether or not the second sentence is a subset of the first.
It's been a lot of fun writing here with my small, but strangely devoted readership. I want to thank Ken and Jon for giving me the opportunity to write here and share with people what was on my mind. And surprisingly, few people ran in fear once they found what was inside.
The Cycle Patrol Office in Thief River Falls, Minnesota has been disbanded and its six employees were laid off. The catcher's interference alarm will ring only in my head (or that could be intermittent tinnitus.) When teams become mathematically eliminated from playoff contention in the 2009 season, you can come up with your own pithy metaphor for death.
I'll still be complaining about Russ Ortiz, Notre Dame, and the New York Times' irritating use of extraneous periods. It's just that most of you won't hear it. If you're looking for baseball news, I would suggest you bookmark ShysterBall. It's where I get my news from and Craig Calcaterra is a great and funny writer. And he is just as likely to drop in a Roman Hruska reference as me.
It was an honor to be associated with writers as good as those who were here. I'll leave the longer goodbyes to others.