Although it doesn't seem like it was a long time ago to me, back in October of 1977, I experienced a bitter disappointment. The Dodgers had made it to the World Series. I was excited beyond belief. Even though the Dodgers had been in the World Series in 1974, for some reason, I really wanted to go to this one in person.
The tickets were going to be sold through one of the predecessors of Ticketmaster, an outlet called Ticketron. People wanting tickets had to go line up outside a Ticketron facility on a Sunday and then come back the next day to purchase the seats. I'm not quite sure how the whole process was supposed to work, but I always figured that there was a healthy amount of graft involved. One of my mom's friends drove my brother Tom and I down to a May Company store at the Topanga Plaza mall, where we got in to a queue of sorts and wrote down our names to put us on a waiting list. Except that I wasn't going to be there on Monday to buy the tickets since I had to go to school, but I had arranged people to get them for me the next day.
After school that Monday, I tore home to find out which tickets had been purchased for me. But as it turned out, there were no tickets to be had. All the available seats for the three scheduled games were sold out before our names were called.
I was beside myself. I wanted to go to the World Series so badly. Why was it so hard to get a ticket? Why did the Dodgers make it nearly impossible to get a seat? These questions weren't easy to answer for an 11-year old.
My mom took me aside and told me a story that night. It was about her World Series experience. It was 33 years earlier.
Back in 1944, my mother, living in St. Louis, didn't care that the best players in baseball were off serving in the military. She was excited that the two St. Louis teams, the Cardinals and the Browns, had won their respective leagues and would meet in the World Series. It would be the "Streetcar Series" although you didn't need to travel anywhere between games as both teams shared the stadium, Sportsman's Park, located at the corner of Grand and Dodier.
The map below shows the locations where Mom grew up (mark in SE corner) and where Sportsman's Park was (mark in NW corner)
While I grew up in a nice middle class neighborhood in the suburbs with both parents around, my mom grew up nearly all of her life with just one parent: her mother. Her father, whose alcoholism was likely the least of his problems, died when Mom was three in a suspicious speakeasy accident. My mom spent much of her life living in a home that she, her older sister, and her mother (who was a very nice woman, but had to work long hours to support her children during the Great Depression) had to share with her grandparents and her aunts and uncles. And one of her uncles was a jazz musician, who would invite his friends over late at night and play music into the wee hours of the morning. This assured that no one ever got any sleep.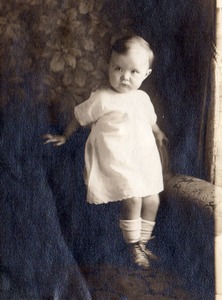 Mom around age 1 or 2

My great-grandmother, a Croatian immigrant, was not an easy woman to live with. She butted into everyone's lives. She detested her daughters and granddaughters and only showed any affection for her male children. Mom didn't like to stay around that house too much and would often go visit her other grandparents (the ones from her father's side). In addition to being a happier place, these grandparents and her aunts and uncles on this side of the family truly liked her, although they were an odd bunch in their own way. Regular employment was not one of their trademarks.
But, as a bonus, they lived near Sportsman's Park. So my mom would take the streetcar or bus to visit her other set of grandparents and then walk to Sportsman's Park. The Cardinals and Browns both had "Knothole Gang" programs. Kids would be allowed free entrance into the bleachers for nearly every game. Boys would sit in one pavilion and girls in another. And, since this was St. Louis in the 1940s, black fans had yet another entrance. She made it a point to remind me of what St. Louis was like when she was a kid.
Mom grew up loving the Cardinals. It helped that they were one of the best teams in the National League much of this time. The Cardinals won the pennant and World Series in 1942 and lost in the World Series in 1943. In 1944, the Cardinals blew away the rest of the National League, winning 105 games. The Browns, thanks to the leveling of the playing field by the war, won their first ever AL pennant with just 89 wins.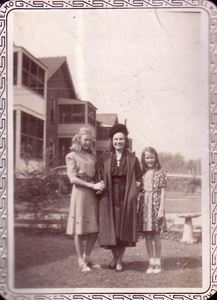 Mom (on the right) with her sister and my grandmother in the late 1930s, outside their home in St. Louis
Although this World Series was not exactly a big deal to the rest of the United States, it was a matter of great importance to the people of St. Louis. And when tickets went on sale, they sold out quickly. My mom hoped that her Uncle Roy would come through with tickets to one of the games, but it was not to be. Just like me, she was shut out and she cried over the disappointment.
Mom's 15th birthday was October 8. In 1944, it was a Sunday. And it was also the day of Game Five of the World Series, with the series tied at 2-2.
There were some birthday presents for her to open up, but nothing special. One present was a large box. And it had another box inside of it. And then another. And then more and more newspaper. Mom tore through it looking hoping that it wasn't some gag played on her by the many relatives living with her. But finally, underneath the newspapers, were a pair of tickets to Game Five. Uncle Roy, who worked in a tavern, made a deal with someone and got a pair of seats. Roy, who never married or had children, liked my mom because she was fun to go to ballgames with. And it was likely that Mom kept reports of Uncle Roy's gambling losses to herself.
The Cardinals would win that game 2-0 behind a shutout from Mort Cooper and homers by Ray Sanders and Danny Litwhiler. It featured a then World Series record 22 strikeouts.
But Mom never remembered the details of the game. She didn't even remember where she sat. What she did remember was that she got a pair of tickets to see the World Series. At age 15, she finally got something that she truly wanted as a gift. She never mentioned any gift she received as a child either for her birthday or Christmas to me ever. Just this one.
Back in 1977, I didn't realize how this story was supposed to cheer me up though. I thought, "Yeah, but you still got to go." But Mom told me to hold out hope that maybe something would come up. She said there was still time.
The 1977 World Series opened up in New York and the Dodgers and Yankees split Games 1 and 2. The Series started on a Tuesday in 1977 and Game 3 would be on Friday, October 14. When I left school that day, my brothers Michael and Tom met me outside of school. Which I thought was odd since they didn't attend the same school as I did. They were told that they had to make sure I had to come straight home and not go to a friend's house.
My elementary school was just a few blocks away so I took the short walk wondering what was up. It wasn't like I was going to go anywhere anyway; the World Series was on that night. And this was the West Coast, so the game would start around 5 pm.
When I got home, my brothers told me to get ready to go over to Dodger Stadium. My brother Tom and I were going there with my cousin, who possessed important things, like a car and a driver's license. I asked how we got tickets. I was told me that Mom asked my Uncle John (her brother-in-law who worked at the local Anheuser-Busch plant and my cousin's father) and he had pulled some strings and made a deal and got a pair of seats. I don't know how much she had to pay for them. It may have been as high as the princely sum of $20 per seat. They had a face value of $8.

But I was going to the World Series, and one between the Dodgers and the Yankees, no less. There would be bunting hung up in the park! There would be overpriced programs and souvenirs to buy! I was going. And I went. And the Dodgers lost 5-3. But I was happy anyway. I had been to the World Series!
My mom passed away on this day 13 years ago. For someone who had such a profound effect on my life, I always seem to come back to this story when I think of my mom. Many parts of my memory of her seem so abstract. Even her appearance in old photos seems surprising to me. It's harder and harder to remember what her voice sounded like. But I suppose it's just this one deed that she did for me that remains part of my memory of her.
I could say that it is a memory of how much my mom and I both loved baseball. But maybe, it's a memory of what Mom wanted for her kids. She didn't want them to be disappointed all the time. She knew that life would be unfair and sometimes you would have to put up with that unfairness. But she also realized that sometimes, if you get the chance, you can do something extraordinary for one of your children. You might not know what that will be, but I think back in 1977, Mom knew that she had a chance to make one of her children as happy as she was 33 years earlier. A chance to experience something that may have been just a once in a lifetime event.
It's still something that I can never forget about Mom. I wish I didn't have to have nothing but memories of my mother. I'd rather have the real person. But I can't have that. But I have this memory. And I hope that I never lose it.