MLB.com's Jennifer Langlosch interviews Hal Smith, the Man Who Would Have Been the Hero of the 1960 World Series.
Smith entered Game 7 in the 8th inning for the Pirates as a replacement for starting catcher Smokey Burgess, who had been pinch run for. The Yankees led 7-4 coming into the inning, but the Pirates had rallied to make it 7-6 on a RBI single from Dick Groat and another from Roberto Clemente.
With Groat on third and Clemente on first, Smith hit a Jim Coates offering over the fence in left field to give the Pirates a 9-7 lead heading to the ninth.
"I missed a fastball," Smith recalled, referring to the second pitch in the at-bat. "I took a hard swing."

He'd get another try at the fastball two pitches later.

"I remember very well that when I hit it that it would be a home run," Smith said. "It wasn't until I rounded second base and saw the people standing up on the dugout and going crazy that I realized that this was something special. That's when it sunk in how big this was."
But the Yankees rallied to tie the game in the top of the ninth. And then came Mazeroski.
The story from MLB.com doesn't even include a picture of Smith. It has the iconic photo of Mazeroski heading to home instead.
So, to remedy that, here is Hal Smith.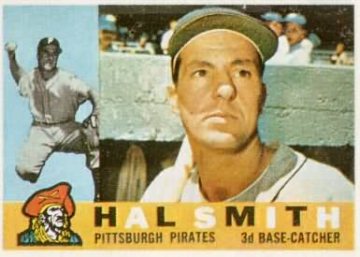 When I first did this piece, I actually ran a picture of another
Hal Smith
. There were
two
in the majors, both catchers, around the same time.