This time, I don't know the answer and the photo below is on display at the Los Angeles Public Library's Central Library.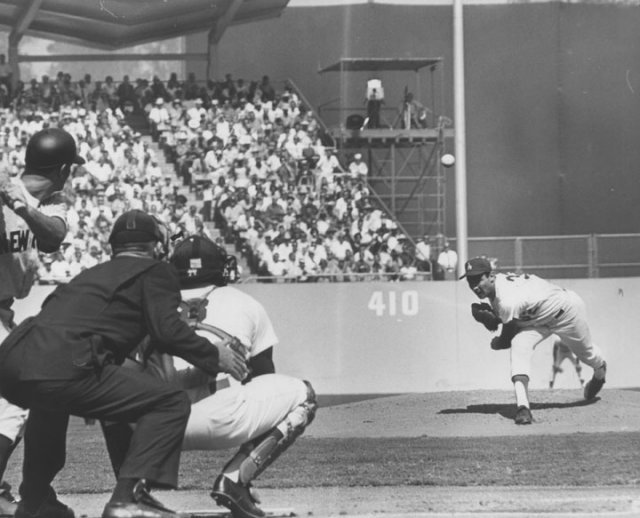 It's from Game 4 of the 1963 World Series. So your choices are:
Bobby Richardson
Tom Tresh
Mickey Mantle
Clete Boyer
Phil Linz
Those were the only five right-handed, fair-skinned batters for the Yankees in the game. I'm leaning to Richardson as the photographer would have tried to take a shot early in the game. Richardson was batting second. And the batter is choking up a bit on the bat, which is not something Mantle or Tresh would have done.
Don't be fooled by the fact that all the crowd was in their seats. This other photo taken of Koufax warming up and getting ready to face leadoff man Tony Kubek, shows an equally full house.
Photo by Gordon Dean of the Hollywood Citizen News
UPDATE - I posted the query to the SABR mailing list. So far I have received word from people who insist that the batter is Bobby Richardson. Or Tom Tresh. Or Mickey Mantle. Or possibly either Richardson or Tresh. And it would only be a few more months before the Warren Commission was assembled to study such matters from the time this photo was taken.
Wayne McElreavy has sent me a link to a picture of a 1961 baseball card showing Bobby Richardson at bat. Richardson is holding the bat almost exactly like the batter in the photo.