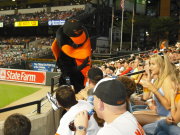 Saturday night on my trip to My Nation's Capital (your nation's capital may vary, check with your local government authority), I took a side trip over to Baltimore to go see the Orioles take on the Texas Rangers in one of those games that already had the air of "playing out the string."
I ventured out with commenter Sam DC (who graciously allowed to crash at his home) along with his two sons and we met up with Friend of the Griddle Josh Mosby (more memberships will be available during my next pledge week), who lives in Catonsville.
It was a gorgeous night in Baltimore with temperatures in the low 80s and very low humidity. And it was the night when it was time to:
Give out the first Bill Hagy Award. It went to Bill Hagy.
Induct the newest member of the Orioles Hall of Fame. That honor went to Gregg Olson.
(Some other people were honored, but I was eating and didn't pay attention, my apologies to those poeple.)
The game matched up two pitchers who always appear to have the sourest dispositions: Vicente Padilla of Texas and Daniel Cabrera of Baltimore.
Cabrera got into trouble in the first as he gave up a leadoff single to Ian Kinsler and then gave up a one-out single to Michael Young. After Kinsler and Young had a double steal, the Orioles intentionally walked Josh Hamilton (playing DH) to load the bases. Cabrera then bore down and got Marlon Byrd to pop up and struck out Jarrod Saltalamacchia to end the inning.
There was no word if Jarrod's wife, Ashley Saltalamacchia, was pertrubed by this.
Like the Rangers, the Orioles loaded the bases with one out in the first, but they got a run on an RBI single from Kevin Millar.
It got worse from there for the Rangers. Nick Markakis hit a 3-run homer in the second. Melvin Mora doubled in two in the fourth. Brian Roberts (who is really, really, really short) singled in a run in the fifth. Mora closed out the scoring with a 2-run homer in the seventh.
I had been to Camden Yards once before, but it was back in 1992. The stadium was far more crowded back then as Baltimore was THE place to be for a baseball game. But on this night, a little over 30,000 people bought tickets for the game.
The fans in the RF bleachers were generally a nice bunch and an amiable group to hang out with. There was one guy, who kindly be described as a jerk, who decided to heckle Josh Hamilton every time he came up for his addictions.
Why someone decides to:
heckle someone for overcoming a huge personal problem.
does so while he is drunk
and is yelling from a spot about 420 feet from where Josh Hamilton was located
is one of life's mysteries best left unsolved.
I realized from this game that as closely as I follow baseball, the Baltimore Orioles are pretty much a mystery to me. I did recognize most of the starters, but once reserves started coming in, I was puzzled as to who they were.
Cabrera was followed on the mound by Rocky Cherry, Alberto Castillo, and then Fernando Cabrera. Luke Scott was pinch run for by Luis Montanez. Juan Castro was the starting shortstop (and went 3 for 3!) and was replaced by Alex Cintron.
I knew who Castro and Cintron were. But I wondered why there were in Baltimore. Is Baltimore the city where baseball players go to die?
The Rangers managed just four hits Saturday (they had 20 hits and 15 runs Sunday) and the lineup sent out was pretty weak with Milton Bradley sitting the game out and Michael Young leaving early after aggravating a finger injury.
In the ninth inning, Byrd got a leadoff single. Saltalamacchia followed with a fly out to deep center that Jay Payton had all the way. Byrd decided to tag up and try for second and actually made it. I don't know if that play is included in a copy of "The Texas Rangers Way to Play Baseball."
And so started a fairly intense stretch of attending baseball games in person. Next week I have tickets to go see the Dodgers August 13, 14, 15, and 16. All of them for free! And another ticket for August 20.
I can only hope that the weather every night is as perfect as it was in Baltimore Saturday night. Because although the game was a dud, the weather and the company more than compensated for it.