Korea took the gold in the Olympic baseball tournament with a 3-2 win over Cuba in Beijing this morning (Saturday night in Beijing).
Seungyeop Lee hit a 2-run homer and Yongkyu Lee had an RBI double in the seventh to account for all the scoring.
Cuba loaded the bases in the ninth and Korean catcher Min-Ho Kang was ejected after arguing a base on balls call in the same inning.
But with the bases loaded and Yuliesky Gourriel up, Taehyon Chong induced a game-ending 6-4-3 DP.
Korea went undefeated in the tournament, finishing 8-0, including two wins each over Japan and Cuba as well as one over the USA.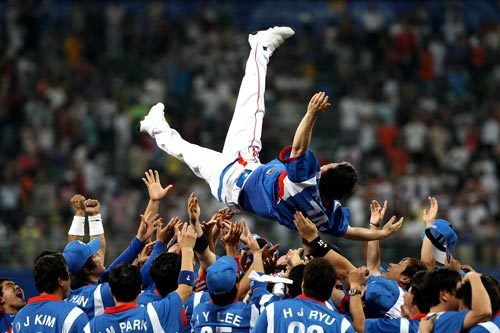 (Photo credit: Jonathan Ferrey/Getty Images)