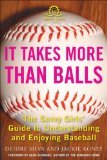 Deidre Silva and Jackie Koney, a pair of baseball fans from Seattle, decided that they wanted to put together a book about baseball that would be tailored for women. And the book got the somewhat inelegant title: It Takes More Than Balls: The Savvy Girls' Guide to Understanding and Enjoying Baseball.
I decided to give it a try, even though it appears to be marketed not unlike Secret deodorant. I needed to find out if the book was strong enough for me, yet written for a woman.
For the most part, I found the book to be, non-annoying. Silva and Koney definitely love and understand baseball. And they have written a very entertaining, well-written, and well-researched book that appeals to all types of fans.
I particularly liked the authors' introduction to the book where they state how you can be a baseball fan at any different level of intensity and none are "right." The game appeals to different people in different ways.
A good example of this is Silva and Koven's chapter on how to keep score. They mention the first rule of keeping score at a baseball game, which is, there is no one right way. They also don't feel that you have to keep score for the whole game. Other things might come up. You might get bored. You might have to leave. You might start talking to friends.
Remember, it's a baseball game, not a prison term.
But is the book an interesting read for the "savvy girl?" I can be savvy, but the last time I checked, I'm not a girl, so I asked someone who would pass for that, Mary, of This Book is For You, who reviews lots of books and plowed through this title in about a day. Mary grew up a Pirates fan and idolizes the skinny version of Barry Bonds, although her baseball heart really belongs to Andy Van Slyke.