One team (Texas) departed the scene and the Cubs and Dodgers crept closer to the coveted single digit status in their magic numbers.
Here are the magical numbers:
Division Leaders
Cubs (NL Central) - 10 (Cubs rained out and Brewers out)
Dodgers (NL West) - 11 (Dodgers win and Diamondbacks lose)
Mets (NL East) - 13 (Mets split doubleheader and Phillies win)
Rays (AL East) - 14 (Rays and Red Sox both split doubleheaders)
White Sox, Twins (AL Central) - 16 (White Sox rained out, but Twins sweep doubleheader. White Sox hold .001 lead)
Wild card leaders
Red Sox - 10 (Red Sox split pair and Twins sweep)
Brewers - 13 (Brewers lose to Phillies and Astros were postponed)
Going, going ...
No one will be eliminated Sunday. The Rockies are the next closest team to elimination and that would require a combination of Dodgers wins and Rockies losses that add up to three. For the Giants, the number is four. In the AL, the Tigers and Indians fear running into a combination of losses and Twins wins that add up to five. The Yankees fear the number five as well, but the team that concerns them is Boston.
There's No Place Like Home
The Angels will clinch home field advantage throughout the postseason with a combination of wins and losses by Tampa Bay that add up to 14. Tampa Bay would get home field against the Angels in case they finish with the same record.
The Race to #30
The standings:
| | | | |
| --- | --- | --- | --- |
| | W | L | GB |
| Washington | 56 | 92 | |
| San Diego | 56 | 91 | 1/2 |
| Seattle | 57 | 90 | 1 1/2 |
I've taken the Pirates out of the running as the Bucs have had the temerity to win two straight games.
Remaining games left:
Washington - 1 at Florida, 4 vs New York, 3 vs San Diego, 3 vs Florida, 3 at Philadelphia
San Diego - 1 vs San Francisco, 3 at Colorado, 3 at Washington, 3 at Los Angeles, 3 vs Pittsburgh
Seattle - 1 at Los Angeles (Anaheim), 4 at Kansas City, 3 at Oakland, 4 vs Los Angeles, 3 vs Oakland
Sunday's Games of Note
Most notably, the Astros and Cubs will finally start their series, but their three-game set has been shortened to two and will be played in Milwaukee. There will be a 5:05 pm PT start on Sunday with Carlos Zambrano facing Randy Wolf. Monday's game will be played at 10:05 am PT. The third game will be played on Monday, September 29 in Houston if playoff berths are at stake.
Also in Chicago, the Tigers and White Sox were rained out of a doubleheader and they'll try it again Sunday as a separate admission affair. The evening game will be an ESPN affair. The Tigers will send out Justin Verlander and Kenny Rogers against Javier Vazquez and John Danks. The third game of the series will be played on Monday, September 29 in Chicago if needed. And since the White Sox lead the Twins by .001 in the standings, there's a good chance it will be needed. Further complicating matters is that it's supposed to rain some more in Chicago Sunday. So good luck with that doubleheader idea.
The stumbling Brewers will try to hold on to their two-game lead in the wild card when they take on the Phillies in a day-night doubleheader at Citizens Bank Park. Dave Bush and Jeff Suppan pitch for the Brewers and Joe Blanton and Brett Myers pitch for the Phillies.
Other games: Atlanta (Campillo) at New York (Perez), Los Angeles (Maddux) at Colorado (Cook), Cincinnati (Cueto) at Arizona (Scherzer), Tampa Bay (Jackson) at New York (Pavano), Minnesota (Blackburn) at Baltimore (Liz), Toronto (Halladay) at Boston (Lester)
#58
Not that I planned it, but I was in Anaheim Saturday night and got to see Francisco Rodriguez erase Bobby Thigpen's name from the record books with his 58th save.
I had a photo of Rodriguez celebrating at the end of the game, but it came out blurry as it was dark, I wasn't all that close to the action, and I'm not exactly Mr. Steadi-Cam.
But I was there. Look!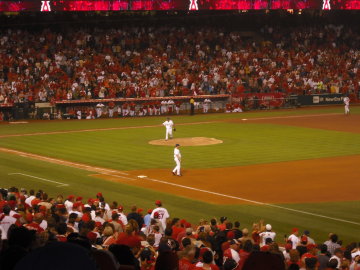 Nothing more scintillating than watching a pitcher warm up. And Mark Teixeira looks particularly awe-inspiring in this shot too doesn't he?