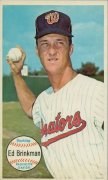 Eddie Brinkman, who defined "good field, no hit", passed away Tuesday at age 66, according to a Detroit Free Press story. The cause and location of his death was not reported.
Brinkman played for 15 seasons in the majors and batted .224 and slugged .300. He started his major league career with the expansion Washington Senators in 1961 and was traded to Detroit before the 1971 season along with Joe Coleman, Jim Hannan, and Aurelio Rodriguez for Denny McLain, Don Wert, Norm McRae, and Elliott Maddox.
Brinkman also played briefly for the Cardinals, Rangers, and Yankees.
Brinkman was an AL All-Star in 1973 and won a Gold Glove in 1972.
It is unclear if John Foster Dulles named his diplomatic strategy after Eddie Brinkman.
Josh Wilker wrote about Brinkman at Cardboard Gods back in 2006.