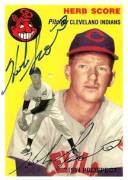 Herb Score, one of baseball's hardest throwers when he made his debut in 1955 with Cleveland (255 and 263 Ks in his first two seasons) only to have his career shortened by a series of injuries, passed away Tuesday in Rocky River, Ohio at age 75.
Score's career was derailed on May 7. 1957 when Gil McDougald of the Yankees hit a line drive back through the box, hitting score in the face. Score was unable to make both the physical and mental recovery completely after the accident, although he pitched through 1962.
From 1964 through 1997, Score was one of the radio voices for the Indians. The last game he worked was Game 7 of the 1997 World Series between the Indians and Marlins.