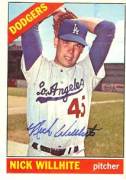 Nick Willhite, who pitched for the Dodgers, Angels, Senators, and Mets in a five-year major league career, passed away in Alpine, Utah on Sunday from cancer at the age of 67.
According to the LA Times obituary, Willhite signed with the Dodgers in 1959 for a $50,000 bonus, but didn't reach the majors until 1963. Willhite threw a shutout in his major league debut, in the second game of a doubleheader against the Cubs on June 16, 1963.
The obituary also mentions that Willhite turned around a difficult post-baseball life.
Willhite bounced around from one job to another, working as a pitching coach at Brigham Young University and in the Milwaukee Brewers and New York Yankees organizations.

Divorced three times and living on the streets of Salt Lake City as a drug and alcohol addict, he reached out to another former Dodger pitcher, Stan Williams. Williams put him in touch with the Baseball Assistance Team, which helps former baseball players in need. Willhite entered a treatment center in 1989 and eventually became an addictions counselor.