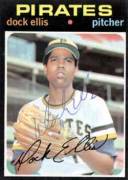 Dock Ellis, a pitcher for 12 seasons in the majors including the 1971 World Series champion Pirates, passed away Friday of complications of a liver ailment. He was 63 years old.
Ellis threw a no-hitter at San Diego on June 12, 1970 and later admitted to being under the influence of LSD at the time.
In 1971, when Ellis went 19-9, he started the All-Star game for the NL at Tiger Stadium and gave up a long home run to Reggie Jackson of the A's that would have gone over the right field roof if it had not hit a light tower and bounced back.
On May 1, 1974, Ellis started a game in Pittsburgh against Cincinnati and hit the first three Reds batters (Pete Rose, Joe Morgan, and Dan Driessen) before walking Tony Perez (who apparently could duck better) and being removed by manager Danny Murtaugh.
Ellis also pitched in the 1976 World Series for the Yankees.
Thanks to Diane Firstman of Bronx Banter for the heads up.