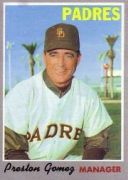 Preston Gomez, who played in just eight major league games, yet still spent 64 years in professional baseball a coach, scout, and manager, passed away in Fullerton today at the age of 85 most likely from complications arising from getting hit by a car at a Blythe, California gas station back in spring training of 2008.
Gomez played in the majors for the Washington Senators in 1944, but achieved more notoriety as the first manager of the San Diego Padres. Gomez skippered the Padres for their first three seasons before being fired early in the 1972 season. Gomez latered piloted the Astros for one and a half seasons and also managed the Cubs for 90 games in 1980.
Gomez twice lifted a pitcher who was throwing a no-hitter, yet trailing, in the eighth inning for a pinch hitter. It happened to Clay Kirby on July 21, 1970 and Don Wilson on September 4, 1974.