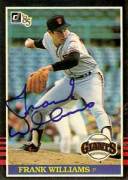 Frank Williams, who pitched in the majors from 1984 through 1989, died Friday in Victoria, British Columbia at age 50 from a heart attack.
After Williams' playing career ended, he was beset by problems caused by alcoholism and spent much of his time in homeless shelters and detox centers, according to his obituary in the Times-Colonist (linked above).
Williams started only one game in his career and it was a shutout, a 5-inning 7-0 win for the Giants in St. Louis on May 5, 1984.