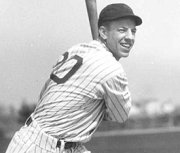 Bill Werber,
who played 11 seasons in the majors
, including two pennant winning years with the Reds in 1939 and 1940,
passed away Thursday in Charlotte at age 100
.
Werber broke in to the majors with the Yankees in 1930. He returned to the majors in 1933 and eventually was sold to the Red Sox. The Reds acquired Werber after the 1936 in exchange for Pinky Higgins. Werber finished his career with the Giants in 1942.
From the AP obituary:
Werber was an avid reader and occasionally wrote letters to baseball commissioner Bud Selig. Werber told Selig he doesn't think women should sing the national anthem, that games today take too long and that he's disgusted with the long hair on modern players.
Back on September 8, 1974, Werber wrote an open letter to Commissioner Bowie Kuhn in the New York Times about whether or not there should be a black manager in the majors. Werber was, to put it mildly, opposed to the idea. However, you can't read the article online unless you get a paid subscription to the newspaper.