When you get to the Notre Dame campus for a football game, it's pretty obvious that you are entering a different world of college football fandom.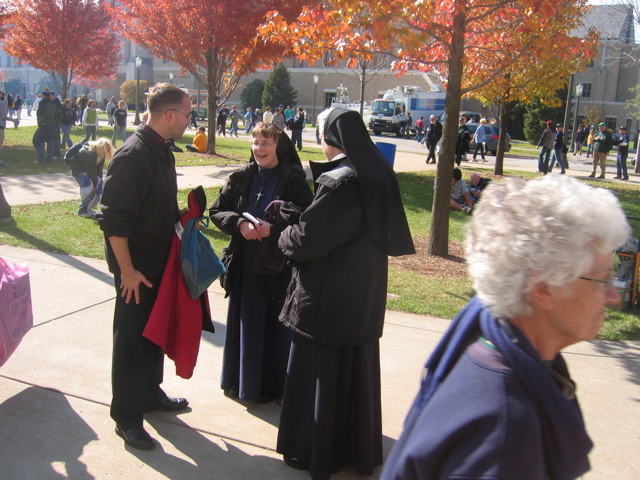 However, it wasn't just seeing nuns outside the stadium that made it different. It is quite a different atmosphere than this Pac-10 fan is used to.
For the most part, the fans of Notre Dame are exceedingly, if not somewhat creepily polite to visitors. If you wear visiting colors to the game, you are continually greeted by Notre Dame fans saying "Welcome to South Bend, I hope you enjoy the game." For the most part, I think the fans were sincere. There might have been a few people putting on a show, but they were in a definite minority. The ushers at the stadium, who are headed by the estimable Cappy Gagnon to whom I owe many thanks for all his help in arranging tickets and parking for my brother and I, are definitely sincere in their good cheer. If my father had liked football (which he didn't) and lived in the South Bend area, he would have made a perfect usher at Notre Dame Stadium.
Not counting trips to the Coliseum to see USC games, I've only seen UCLA play on the road four times. Once against BYU at the Freedom Bowl in Anaheim, twice at Berkeley, and once at Stanford. In general, UCLA fans don't travel anywhere. They don't like to travel to Pasadena for home games. But UCLA sold out its full allotment of 5,000 tickets and there were likely a few more thousand than that squeezed into the 80,000 or so people at Notre Dame Stadium. It was quite a sight. Even the band made the trip.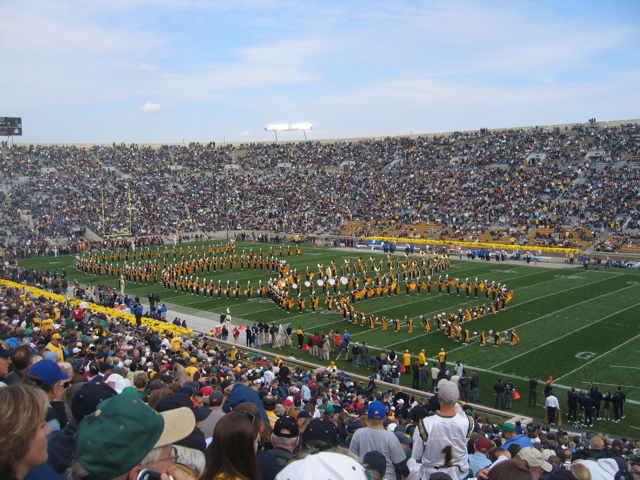 The weather was supposed to be awful, but it turned out to be an almost perfect day for watching college football with temperatures in the high 50s to low 60s during the game. Prior to the game, the Notre Dame band played the UCLA fight song. Then the pregame festivities started with the PA announcer reciting the Preamble to the Consitution. Of course, being a child of the 1970s, I can only recite that this way. Then we got to hear the opening of the Declaration of Independence. And the band played "America the Beautiful". After that, I put my cap back on and sat down on my bench (which looks like it was sat on by people who watched the Four Horsemen play). Then my brother reminded me that they still were going to play the National Anthem. And after that and a flyover by a very loud jet, it was time to get started.
As for the details of the game, I think we all know what happened. I don't want to rehash it. It didn't feel like a punch in the gut to me. It was more like a bad dream. After all is a dream a lie that doesn't come true or is it something worse? Well, I think know the answer to that question now. It's something worse. (I didn't go down to any river though.)
I actually have much different memories to take back from the game. I remember the two guys sitting behind me who were straight out of a "Saturday Night Live" sketch with their Chicago accents. One guy was a fan of "Da Bears" and the fact that the winning touchdown was scored by Jeff Samardzija just made it a perfect day for them. They operated sort of like a Greek chorus during the game with their comments about the ineptitude of the Notre Dame offense for the first 58 minutes and 58 seconds of the game. At one point in the game, I felt one of the guys rubbing his hand on my back, which I found odd. He told me had spilled popcorn on me. I'm choosing to believe that explanation.
Another thing you don't hear too often over the PA system at a football game is an announcement of when Masses would be celebrated after the game. If you're ever at Notre Dame, remember that the shuttles to the parking lots run UNTIL all the Masses are over. Personally, I believe going to a football game on a Saturday afternoon should satisfy my Sunday Mass obligation, but I was not able to gain a lot of support for that position.
Notre Dame Stadium is supposed to be an intimidating place to play for visitors, but UCLA didn't seem scared at all during the game. Notre Dame does not have a crowd that is particularly loud, although that could have been because Notre Dame played so poorly for much of the game. Also, a few fans bailed out early on the game. Not to the same extent that UCLA fans leave the Rose Bowl early, but a few thousand fans headed out early by my estimate.
Needless to say, the Notre Dame fans who stayed were deliriously happy. And I didn't hear a single Notre Dame fan taunt me on the way out. I could say that if the situations were reversed, that UCLA fans would have been equally magnanimous, but I doubt it. UCLA fans are not exactly known for being gracious in victory. It's just not in our nature. It likely stems from playing second fiddle to USC in football for well, a long time combined with a sense of entitlement after winning 11 basketball championships.
I've been trying to think of slogans to describe the UCLA football experience:
"Underachieving since 1954!"
"UCLA Football! It's Sorta Good Most of the Time!"
"This Team is Never Greater Than the Sum of Its Parts!"
"Our Players Will Be Much More Famous Later!"
But maybe I should just imagine a happier ending to last Saturday's game.
Maybe something like this: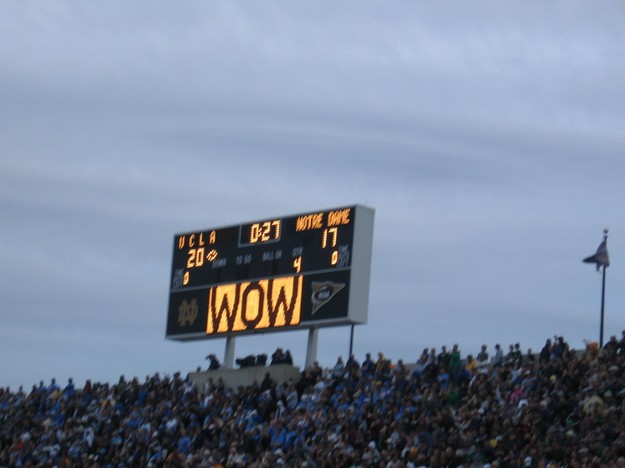 Thanks to reader tjshere for that bit of work. And another T.J. is sympathetic.