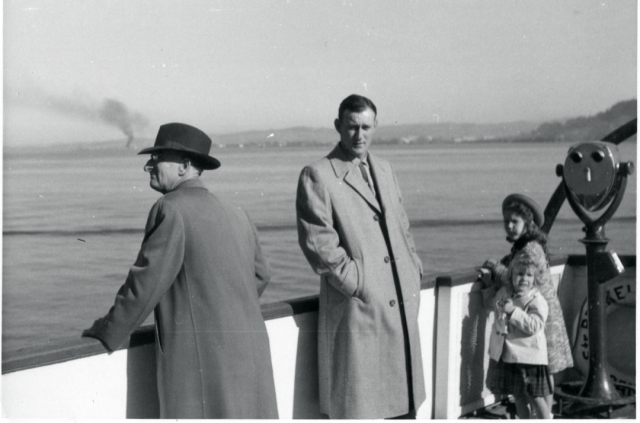 Today would have been my father's 78th birthday and I thought I would remember him with this shot of him that made him look like he was posing for the back cover photo of his novel. Somehow, my mom was able to shoot pictures of my dad in interesting ways.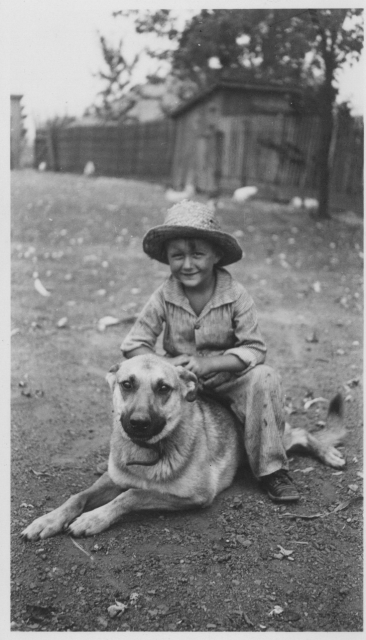 My father was born in 1929 in Breese, Illinois and spent his first 31 years on a relatively large dairy farm. This photo is of my dad when he was about five and he's shown with the family dog, King. Growing up with a farmer who lived on a farm does subject you to a lifetime of hearing tales of getting up early, working every day, walking a long way to school, and hearing phrases about common matters that seem to relate to ... um ... animal excretions. It never rained hard growing. It always "came down like a cow pissing on a rock." There are some other phrases he used a lot, but they are best left unsaid as children might be present. I will add that for the most part my father did not use profanity. Except for a certain four-letter word that started with s, which could seemingly be used as a noun, verb, adjective, adverb, and for all I know a conjunction.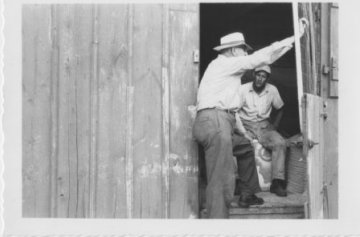 This was a shot of my dad, taken back by mom shortly after they had gotten married in 1956 and it shows my dad and his father. But after a couple of years, my dad couldn't stand his father's constant criticism and meddling and he packed up his wife and young son (my oldest brother had just turned one) and drove out to California looking for a new start.
And he went on to have three more sons, with his last one, i.e. me (the kid in red below), being the last attempt by my parents to have a daughter. He survived one battle with cancer in the late 1960s before losing one in 2002, although we didn't know he had cancer until after he died.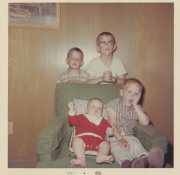 Then there were years of running a small drive-through dairy (the man and milk products had a thing I guess) in North Hollywood where my brothers and I were introduced to the working world and also learning that where there's a cash register, there will eventually be a guy with a gun who wants the money inside it. Fortunately we all got out alive.
Then came retirement for my dad thanks to a heavily-insured truck running into his store. Then lots of volunteer work with his church and going to Mass every day.
After my mother passed away and before my father remarried, I went on a trip to Europe with him. We started in Amsterdam and then worked our way into Northern Germany to meet some distant relatives. Then came Denmark where I found out that my father really enjoyed the Tivoli Gardens. Then a train to Norway where I discovered my father was really impressed by fjords. Then back to Sweden (we had passed through it overnight on the way to Norway) where we surprised to find out that Stockholm has a lot of islands. Apparently, we hadn't read that far ahead in our tour book. A ferry to Helsinki followed which set us up for another brief cruise over to St. Petersburg as well as a later day trip to Estonia. It's every son's dream to say to their father, "Hey Dad, how about a one-day tour of Tallinn, Estonia?" "Sounds good, let's go."
But my dad always liked to travel and had visited 45 of the 50 states, missing only North Carolina, South Carolina, North Dakota, Minnesota, and Alaska. But he told me that the only states he really regretted not seeing were North Dakota and Minnesota.
However, what was my father's destination on the picture up top? I know where Vernon Timmermann, Man of Mystery, was headed in 1957. Do you?