As part of my weekend trip to the Midwest, I saw two baseball games. One was Sunday's Cubs-Braves game at Wrigley with my nephew Dan, which I will write more about later, but I also some exciting 8-year old Little League action between my nephew Kevin's team (the Marlins) and the Yankees.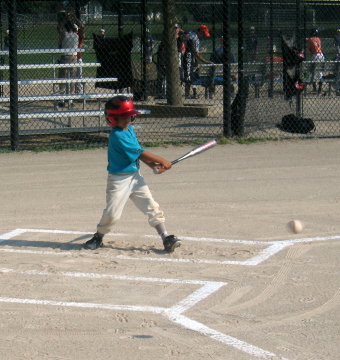 They say when hitters are in a groove, the ball just looks bigger as it comes to the plate. But in this case, the ball is getting larger as Kevin hits it. This was actually during BP and Kevin slapped the first pitch out of the machine down the first base line. At this level, all the pitches in the game come from a machine and all the players bat during each inning.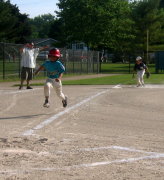 Kevin's biggest skill is his speed as you can see from this shot where he literally flies down the third base line as his feet don't touch the ground. Or if he's not fast, I have to stop buying my cameras from Eadweard Muybridge. The game was decided in the late innings when the Yankees coach opted to change pitching machines used and put in the "Jeff Weaver Gopherball-matic."