When I hit upon the idea of taking my 10-year old nephew, Dan, to Wrigley Field for a game, I was both excited at the chance to spend a day with him and also terrified to spend a day with him.

I was looking forward to getting the chance to impart my baseball wisdom and acumen on to a fertile young mind. I was terrified at the idea that I would lose Dan in the welter of fans leaving Wrigley after a game. Or even worse, Dan would be completely bored and I would have to figure out how to get him from Chicago back to his home in Holland, Michigan without either of us ending the day in tears. Mostly likely me.

Fortunately, a good day was had by all, albeit a very long one. We started out driving from Holland down to Michigan City. For those unfamiliar with geography, Michigan City is actually in Indiana. It is also in the part of Indiana that still uses Central Time, so we didn't have to leave too early to make the 9:20 am train. We left Holland at 8 am for the supposedly 90-minute drive, which really took about an hour and I wasn't speeding. Michigan's speed limit is 70 mph on most highways, as that state doesn't want you to linger, or else they feel that you will burn out your car's enginer faster and have to buy a new one.

The station was closed in Michigan City so we had to wait by the side of the track for the train to Chicago. There were several people in Cubs paraphernalia there, so we knew we were in the right place.

That began a 90-minute journey through the scenic beauty that is NW Indiana. In other words, Dan and I took turns dozing off. Dan did look through the pack of baseball cards I got him and was excited to see one of his favorite players, Kenny Rogers, and found two Cubs, Jacque Jones and Ryan Theriot, and two Braves, Tim Hudson and Ryan Langerhans, in the pack. He hoped to see all four in the game Sunday, but I told him that Hudson wasn't pitching and Langerhans was on Washington now. But I told him that Theriot and Jones would likely play.

We got off the train at the Van Buren Street and I set off for the Jackson Street train station. I somehow missed that station and ended up at Adams, but the kindly CTA worker got us straightened out. Normally, I'm a public transportation Zen master and can navigate any system, especially a city like Chicago, where I've already visited. But the 10-year old threw me off my game.

Nevertheless, we got there with plenty of time to spare for the 1:20 pm first pitch, arriving around noon. That meant that Dan was one of the first 5,000 fans under the age of 13 in the gates and he got the free souvenir helmet, which he opted to wear over his baseball cap.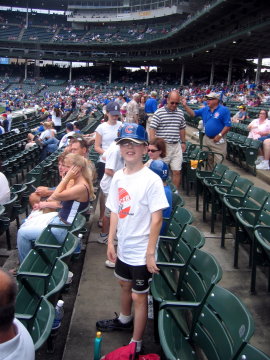 Not that he wanted to go for a Juan Pierre look, but rather because it was more comfortable. Dan probably has a bigger hat size than Juan Pierre as he has inherited the Timmermann gene of having extraordinarily large noggins.

The helmet came with a set of numbers that you could peel off and put on the back. Dan was contemplating just who to memorialize on his helmet. The problem is that Dan didn't really know who any of the players were and what would be a good number. I suggested that he try for 25 (Derek Lee), but he ended up tearing both of the 5s that came with the helmet and instead went for 22 because he had seen a lot of fans wearing jerseys with that number. So Dan now has himself a Mark Prior helmet. And note how he maintained the integrity of the Pepsi logo.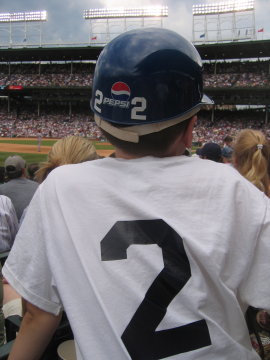 One suggestion I was given to keep a child happy at a baseball game was to keep buying food. This would work if Dan actually ever ate anything. All he wanted was a pretzel and a small Pepsi. He didn't want me to buy him a souvenir since he was already given one. And as he told me once when I offered to buy him some water, "But it comes out of the fountain for free!"

We settled into our great seats in section 7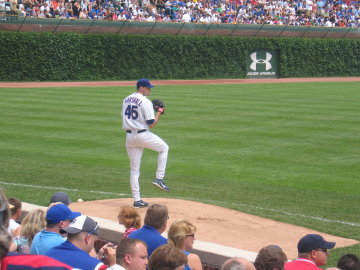 (thank you again, Derek) to see if the Cubs season could get any worse? Perhaps Cesar Izturis would end up fighting with Carlos Marmol? Or perhaps all of the Cubs would be replaced by super-intelligent cyborgs? It had to be an improvement over the way the team was playing.

Fortunately for Dan, he lives in a world without cable TV and he didn't seem to know all of the back stories involving the Cubs. He didn't even know that they hadn't won the World Series since 1908. He did know there was ivy on the wall.

The game started out well enough as the Braves did get leadoff man Kelly Johnson to reach on a single, but Cubs starter Sean Marshall got Yunel Escobar (filling in for the disabled Chipper Jones) and Edgar Renteria to strike out and Johnson was caught stealing to end the inning.

After Alfonso Soriano led off with a ground out to Braves emergency starter Lance Cormier, Felix Pie singled to center to cheer up the Cubs faithful. Lee singled to left. Then Aramis Ramirez singled to right, but Pie was held at third as Jeff Francouer pegged the ball back in.

Now it was time for Jacque Jones! The first player from the pack of cards Dan had to play in the game. Jones hit a grounder to the right side that Ramirez couldn't get out of the way of, so Jones reached on a single, but Pie and Lee had to go back to their bases. The Cubs had four straight hits with no runs.

It was all up to Mark DeRosa. With a full count and the runners all in motion, DeRosa got a hold of a fat pitch and crushed it over the center field fence for a grand slam. And after that, the Cubs cruised.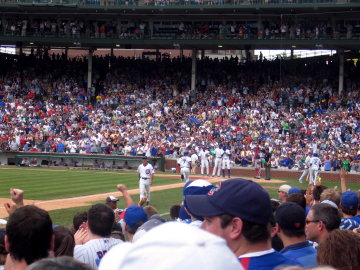 Soriano homered to left in the second and Lee hit one to right-center in the third. Marshall cruised through the first six innings giving up just three singles and a walk while striking out eight.

The Cubs scored three more times in the sixth to finally drive Cormier out of the game and then it was just a matter of waiting around to the end. The Cubs wound up with a 10-1 win and Dan was finally able to figure out the Wrigley Field scoreboard to see who won the game.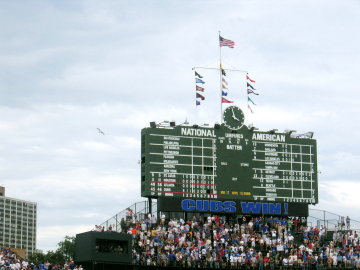 I asked Dan on the way out if he liked the game. He said he did even though he had a hard time seeing over the crowd. And I believe Derek Lee is going to be one of Dan's new heroes.

I didn't get Dan too interested in keeping score, although he seemed to have an idea of what I was doing. He wanted to know how far back my scorebooks go (about 1995) and when I went to my first game (1971). He was not nearly as interested as I was in the length of Jarrod Saltalamacchia's surname.

But we set out for the long trip back to Holland opting to catch the train at the Sheridan station so we wouldn't have to get on with the big crowd at Addison. This worked out well although I did end up sitting next to a guy who was on his cell phone telling his friend about his stool sample tests. He was good for some unintentionally funny moments.

"I'm on the train, so I can't go in to detail, but I have to watch what I eat and then save everything for three days and then send it to the lab. It's really gross, but I seem to have absorption problems. Oh wait, a bunch of people are getting on… Oh, there's a Cubs game today! Isn't there a schedule of these so I can figure out how to avoid them? What… What? I gotta get off the train…"

Eventually Dan and I made our way back to the Van Buren station and waited for the 6 pm South Shore train to take us back to Michigan City. A bunch of happy and well-lubricated Cubs fans joined us.

The train stalled once outside of Gary as it had an electrical problem. Then the conductors moved us out of one car that had no power and into another, only to move us to a third car right before Michigan City. Then there was a guy who went into one of the bathrooms on the train and stayed there for at least 40 minutes. What happened to that guy is best left unknown.

Dan finally ate again at the McDonald's in New Buffalo, Michigan, which we reached around 9:30 pm. He wouldn't eat in Michigan City as he said he preferred Michigan food to Indiana food. Hey, the kid's a connoisseur.
All that was left was a drive through Western Michigan from I-94 to US-31 to I-196 and back to Holland. I had consumed a lot of coffee to keep me awake for this part of the trip as Dan was asleep in the back.

By the time we got back home it was 11:30 pm. In all, the trip was a success. I didn't lose my brother's oldest child. My nephew has likely granted me Favorite Uncle status for the foreseeable future. And it was a beautiful day for baseball in Chicago. It was a weekend well spent.
I should also mention that Dan was so much fun to hang out with because his parents have done a great job. And since two of my nephews, Dan and Kevin, have been mentioned, I should also not slight my two nieces in Michigan, Eleanor and Evelyn.