Page 172 – Most career pinch hit home runs, Minnesota Twins – 8 by Bob Allison.
Hey, didn't we do this page before? Yes, we did. But my random number generator didn't toss out duplicates, so back we go with more fascinating records of the Minnesota Twins.
Or in this case, perhaps a nonfascinating one.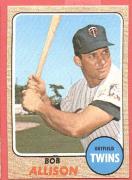 In 3 years with the Washington Senators and 10 more the Minnesota Twins after the franchise moved,
Bob Allison
hit 256 home runs, with a high of 35 in 1963. For most of his career, Allison was always the second or third biggest star on the Twins behind either
Harmon Killebrew
or
Tony Oliva
. Yet he made three AL All-Star teams and won a Rookie of the Year (as a Senator) in 1959.
Allison's first pinch hit home run didn't come until September 7, 1964 at Metrpolitan Stadium. The Twins were trailing the Yankees and Jim Bouton 4-0, when Twins manager Sam Mele had Allison bat for relief pitcher Bill Pleis with Jimmie Hall on first with two outs in the eighth. Allison hit it out to left to make it 4-2 and the Twins followed with three hits to score two runs to tie the game, which they would end up losing 5-4 in 11 innings.
The second came on June 23, 1965 in Cleveland. Allison pinch hit for first baseman Don Mincher (who had six pinch homers for the Twins, second most in franchise history) in the fourth as Mele was using a platoon at first base. Cleveland had taken out righty Sonny Siebert and replaced him with lefty Jack Spring. Cleveland was leading 2-1 at the time, but Allison his a 3-run homer and the Twins would go on to win 6-3.
Cleveland would be the site of Allison's next pinch homer and it would come on July 4, 1966. In a 3-3 game in the 8th, Mele had Allison bat for Mincher as lefty John O'Donoghue was pitching. Allison homered to make it 5-3 and the Twins eventually won 5-4.
Another game-winner would come off the bat of Allison on September 18, 1966 at Yankee Stadium. Batting for Hall, Allison hammered a three-run shot against Steve Hamilton in the 10th inning.
On July 16, 1967, Allison hit a 3-run homer in the seventh at home against Ken Turner of the Angels while batting for Ted Uhlaender. On August 30, Allison came off the bench in the eighth to bat for Jerry Zimmerman and hit a game-tying homer against Gene Brabender of the Orioles. Baltimore would win 4-2 in 10 innings.
It would be until 1969 before Allison hit his seventh pinch homer. In the top of the sixth of a game against Baltimore on August 1, Allison was sent up to bat for pitcher Al Worthington by manager Billy Martin and hit a solo homer to tie the game at 3-3. The Twins would win the game in 10 and the two teams would meet again in the 1969 ALCS with the Orioles sweeping the series.
Allison's last major league home run came from off the bench and it was part of a wild game between the Twins and Tigers on July 31, 1970. The Tigers led 9-7 going to the top of the ninth at Tiger Stadium. Each team had six-run innings in the game.
In the ninth, Oliva led off with a walk against Lerrin LaGrow, but Harmon Killebrew lined into a 5-3 DP.
Not wishing to push his luck, Tigers manager Mayo Smith decided to take out LaGrow and bring in John Hiller, who gave up a single to Rich Reese. Twins manager Bill Rigney called on Allison to bat for Jim Holt and he homered to left to tie the game at 9-9. Tom Timmermann came in to restore order. The Tigers would win in the bottom of the ninth, when Twins pitchers Pete Hamm and Bill Zepp combined to walk four batters to force in a run.
Allison's last at bat in the majors came in the 1970 ALCS when he popped out against Jim Palmer. Allison was batting for Danny Thompson in Game 3 of the series.
Later on, Allison would suffer from ataxia, a relatively rare neurological disease that destroys a person's ability to coordinate their movements. Allison was 60 years old when he passed away. The University of Minnesota established a research center for ataxia in Allison's memory.
References: Sporting News Complete Baseball Record Book, Baseball-Reference.com