Page 73 - Most runners caught stealing by catcher one inning, 3, by Jocko Milligan, Philadelphia AA, July 26, 1887; Johnny Kling, Boston NL, June 28, 1912; Les Nunamaker, New York AL, August 3, 1914
This particular record turned out to be one that shows how difficult it can be to definitely find out about certain events in history. It wasn't until 2006, that SABR researcher Mike Grahek found Kling's feat. And even then finding out the exact details can be hard. And for me, it's even harder when you're just spending a couple hours poking around online trying to find the answer.
As for Milligan, I didn't find out much except that on July 26, 1887, the AA Athletics beat Cincinnati 3-2. Milligan did have a pretty good career and an interesting life. Ralph Berger of the SABR BioProject wrote about him in this piece.
Until 2006, the only other catcher known to have caught three runners stealing in an inning was Nunamaker. The record books said he caught three Detroit runners stealing in the second inning, but the New York Times story about the game says it came in the seventh. The runners identified as stealing were the Tigers 2-3-4 hitters that day: Andy High, Sam Crawford, and Bobby Veach. Since Detroit, the home team, didn't score in the first and just twice in the second, it would have taken some doing for the 2-3-4 hitters to get up to bat in the second.
But the newspaper account (there is no byline on it) can't be accepted on face value as it also states that another Tiger player, George Burns, was thrown out between first and second trying to stretch a single in the ninth inning. And since the Tigers won the game 4-1, they didn't bat in the ninth. (Note: Lyle Spatz of the SABR Records Committee also believes that the inning was the seventh.)
Regardless, people a lot more dedicated than me have researched this and the New York Times writer of 93 years ago could have been full of it and not paying attention. Caught stealing had become an official statistic in 1914, then was dropped in 1917, then resurrected in 1920 in the AL, but not brought back in the NL until 1951. I don't know why caught stealings were counted so erratically.
If you look at stats from 1914, you will find that teams had a lot of players caught stealing. The 1914 Tigers stole 211 bases and were caught 154 times. Nunamaker's Yankees were caught stealing a league leading 191 times, although they did lead the AL with 251 steals. The Yankees were also 70-84.
Kling's three baserunners caught stealing in one inning back in 1912 is better documented. It came in the second game of a doubleheader between the Braves and the Giants at the Polo Grounds. Kling, Boston's player-manager, was not having a great day. The Giants won the first game behind Christy Mathewson, 10-3 and would win the second game with Hooks Wiltse pitching, 12-3. In the fifth inning, with the Giants already up 8-1, Kling caught Beals Becker, Dave Robertson, and Art Fletcher stealing. Nevertheless, the Giants stole 13 bases off of Kling in the doubleheader, possibly more as the boxscore was hard to read. The Giants would win the NL pennant with a record of 103-48 and the Braves finished last at 52-101. Kling was dismissed as Boston manager at the end of the year. Kling would play one more year for Cincinnati.
Kling also had an interesting life. Gil Bogen and Dave Anderson of the SABR BioProject have a biography of Kling. The interesting thing is that at the time, Kling was considered to be Jewish. But Kling's wife in 1948 insisted her husband was a Baptist. In 1969, she then claimed her husband was a Lutheran. One of Kling's grandchildren insists that his grandfather was Jewish. And I would tend to give credence to this since that man, another John Kling, is Jewish.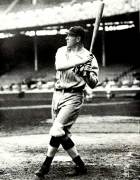 But what of Nunamaker? Well, I found a nice picture of him at Findagrave. He had a pretty nice career batting .268 during in 12 big league seasons and played in the 1920 World Series for Cleveland. Nunamaker joined the Yankees from the Red Sox in 1914 and he was one of six catchers used by Yankee managers Frank Chance and Roger Peckinpaugh. One of those catchers was Pi Schwert, who would later go on to serve in the U.S. House of Representatives.
Several catchers have had three assists in an inning, but not necessarily three CS. The last catcher to get all three assists in one inning was Alan Ashby of the Astros on July 28, 1987 in the 8th inning. Ashby threw out Andres Thomas at first on a dropped third strike. He later threw out Zane Smith on a sacrifice bunt. And he ended the inning catching Dion James stealing second base.
Sources: New York Times, Retrosheet, Baseball-reference.com, SABR BioProject, SABR Records Committee Newsletters, Sporting News Complete Baseball Record Book