(First in an occasional series, unless you think they're no good and I'll stop)
Although I have been keeping score at baseball games since 1972 (when I was 6), I never bought a scorebook until 1995. I was off visiting friends in the Oakland area and when I got to the Oakland Coliseum, I saw a scorebook on sale for something like $6 and it didn't take long for me to do the math between the price of the scorebook and buying a program each time.
So as my friend and I settled in to the upper deck of the Oakland Coliseum on a beautiful Saturday afternoon on May 27, 1995, I entered into a new world. The book itself was really more appropriate for softball as it had 11 batting slots, but since it had a nice shiny Oakland A's logo on it, it had the veneer of Major League respectability. The logo has since been obscured by a collection of mysterious stains by substances which I'd rather not identify because it may remind me of what I ate.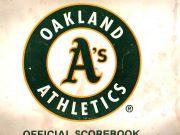 The Yankees had started the day in third place in the strike-delayed season, while the Athletics were in second place. Oakland was starting its unexpected (and often forgotten) ace of the 1995 season, Steve Ontiveros. The Yankees started a young lefty making his first major league start, Andy Pettitte. Pettitte had pitched in five games in relief earlier in the year. I had to check the scoreboard a few times to make sure I had the right number of Ts in Pettitte.
The lineups:
New York
Oakland
Ontiveros set the Yankees down in order in the first and second. Oakland got on the board in the second on singles by Sierra and Steinbach, a sacrifice by Gates. Pettitte struck out Paquette, but the next batter, Bordick, reached when Velarde booted his grounder and two runs scored. 2-0 Oakland.
The Yankees were not doing much of anything against Ontiveros. The first eight batters went down in order, but Eenhoorn drew a walk, but went nowhere. Ontiveros had perfect innings in the fourth and fifth. I was beginning to think that my scorebook would be christened with a no-hitter. I turned to my friend to tell her, but noticed that she was sound asleep. So I decided to rein in my excitement.
In the sixth, Williams (whom I had to identify as B. Williams so as not to confuse him with Gerald Williams), grounded out to second. Eenhoorn struck out. Polonia, the former Athletic, came to the plate and ruined everything with a single to right. Boggs flied out to center.
Oakland chased Pettitte in the sixth. Sierra boomed a homer to dead center and after a one-out single by Gates, Yankee manager Buck Showalter called on Scott Bankhead to relieve. Bankhead finished up with 2 2/3 innings of scoreless relief, giving up two hits and two walks.
The Yankees never could figure out Ontiveros that day. Only two more Yankees reached after Polonia's single. Velarde reached on a strikeout-wild pitch and O'Neill walked in the ninth. Ontiveros struck out seven, including catching Stanley looking to end the game. I think by this time, my friend woke up, which was good since I needed a ride back from the game.
Also making cameo appearances in the game were Dion James for New York (as a pinch hitter for Eenhoorn), Kevin Elster for New York (replacing Eenhoorn at short with Velarde moving over to second), and Andy Tomberlin for Oakland (pinch runner and defensive replacement for Berroa in left).
Elster and Bankhead would not last the season with the Yankees. Tartabull and Sierra would be traded for each other later in the year. Polonia would finish the year with the Braves.
Ontiveros would be 8-2 with a 3.09 ERA at the All-Star Break and would make the AL All-Star team, but would lose the game after giving up an 8th inning home run to Jeff Conine in Arlington. Pettitte would finish his rookie year 12-9 and he would end up starting Game 2 of the Division Series against Seattle, his first of 34 postseason starts for the Yankees and Astros.
Ontiveros would hurt his arm after the 1995 season and with the exception of three appearances with the Red Sox in 2000, he would never pitch in the majors and never would have a day like this particular one in Oakland.
Images from the scorebook, which don't come out well because it's an odd size book and I have an odd scanner which works only if I threaten my computer with a sledge hammer attached to a magnet.