Johan Santata of the Twins set a franchise record (Washington included) with a 17 strikeout game against the Rangers today in Minneapolis. Santana gave up just two hits (both of them to Sammy Sosa) and walked none in eight innings of work.
Joe Nathan struck out two in the ninth for the save. The Twins won 1-0.
The 19 total whiffs by the Ranger hitters were a team high for a nine-inning game. Texas had struck out 18 times in a game three times before, most recently on May 22, 2007 against the Twins in a game that Johan Santana started also.
Despite Walter Johnson having pitched for the Washington Senators, the Big Train did not hold the franchise record for strikeouts in a game previously. There were four Twin pitchers and one Senators pitcher with 15 Ks in a game. Camilo Pascual had 15 strikeouts in a game in Washington and Minnesota.
I've been to one game in person where the starting pitcher had 17 Ks in a game. That was on April 13, 1996 when Hideo Nomo of the Dodgers did it against the Florida Marlins at Dodger Stadium.
Here are some scans (the scanner and I are still not completely on speaking terms):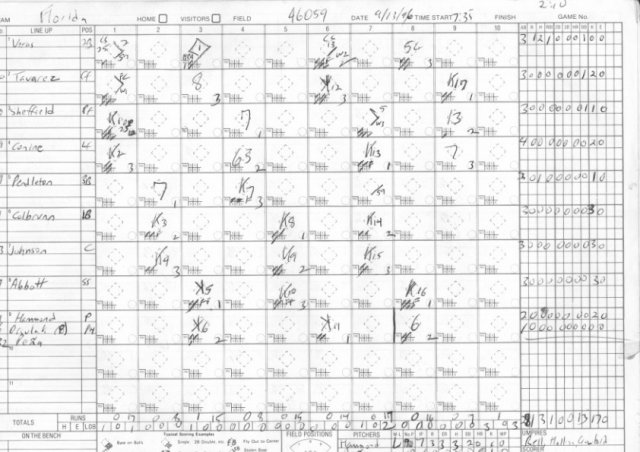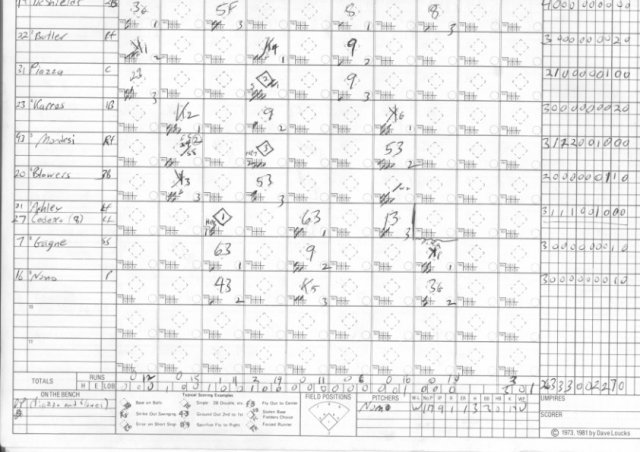 Besides Nomo's 17 Ks, this was also the last major league game for Alejandro Pena. The game was also played the same day as the very first Major League Soccer game for the LA Galaxy, with the Galaxy beating the New York MetroStars 2-1 at the Rose Bowl before a crowd of around 90,000 (which was not anticipated). The Los Angeles Clippers also sold out a game at the LA Sports Arena against the Utah Jazz, which was about 18,000 people. And the Dodgers drew 46,000.
There was a lot of traffic.