I didn't see Game 2 of the Yankees-Indians series, but from what I've read I believe this is a photo of the creature in question.
The creature has many names and you can read about them where I found the picture at Fly Angler's Online.
You can also read about them at Trout Nut.
And now, that I have the wrong bug according to Cliff, it looks like this may be the culprit.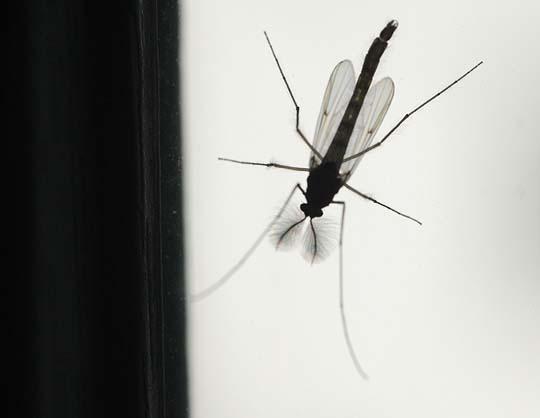 This photo is from the Sandusky Register.
They're back, and they're everywhere.

Muffleheads, also known as chironomids or non-biting midges, are slightly smaller than mosquitoes, and as their name implies, they don't bite.

Their large swarms, however, are enough to bug area residents.

"It's been three years since I've seen an emergence this big," said Jeff Tyson, biologist supervisor of the Lake Erie Fisheries. Tyson has been working at the Sandusky office for 13 years.

While the swarms of muffleheads can certainly get annoying, Tyson said that they're ultimately a good thing.

"They are indicators of good water quality," Tyson said. "The chironomids are a sign of a healthy Lake Erie."
For a guy with a bit of a bug phobia, this may be the end of my searching.
Also from Paul Hoynes in the Cleveland Plain-Dealer on August 26, 1991:
Slider, the Indians' fuzzy mascot, was the only sane creature at the Stadium last night.

He grabbed a giant blue fly swatter and battled the swarms of flying insects that invaded the old ballpark on almost equal terms. Everybody else - players, umpires, fans and ushers - was at a distinct disadvantage.

Everybody that is except Rod Nichols, which makes perfect sense when you think about it. Remember, this is a guy who throws a pitch called the forkle, owned a 1-10 record before last night and had been taken out of the rotation twice this season.

Nichols, making his first start since Aug. 2, threw a three-hitter against the Chicago White Sox as the Indians completed a three-game sweep with a 3-0 victory in front of 10,106 bug-infested fans.

The shutout and three-hitter were big-league firsts by Nichols. What chance did a 10 or 15 million bugs have against somebody like this?

"The last four years I've pitched at least three bug games, so I'm used to it," said Nichols. "It's like a home-field advantage. But this was by far the worst bug game I've seen."

Catcher Joel Skinner, who aided Nichols by throwing out Tim Raines and Ozzie Guillen on attempted steals in the first three innings, disagreed.

"The bugs had better hang time last year," said Skinner. "These guys got tired a lot faster."

The bugs seemed to hit around the third inning. Spiral shaped clouds of the insects sank to the field like puffs of smoke.

"This happens two or three times a year," said third-baseman Jerry Browne. "When it gets hot and humid, you've got to expect it."