Daisuke Yamai pitched eight perfect innings and Hitoki Iwase pitched a perfect ninth inning as the Chunichi Dragons won their first Japan Series title in 53 years with a 1-0 win over the Nippon Ham Fighters Thursday at the Nagoya Dome.
The only run of the game was scored in the second. Tyrone Woods singled, Norihiro Nakamura (the series MVP) doubled Woods to third and Ryosuke Hirata hit a sacrifice fly to score Woods.
The Fighters, who had won the Japan Series last year, finished the five game series with a team batting average of .147. The Dragons didn't hit well, but well enough, batting .228 for the series.
A boxscore you can understand in any language.
Joe Posnanski's story from Nagoya.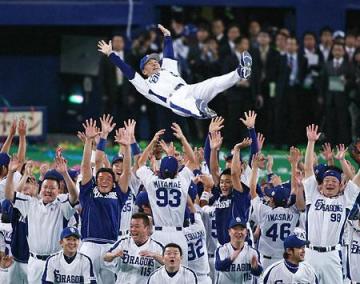 Chunichi manager Hiromitsu Ochiai receives the traditional doage after the Dragons win.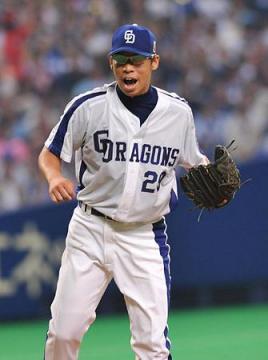 Daisuke Yamai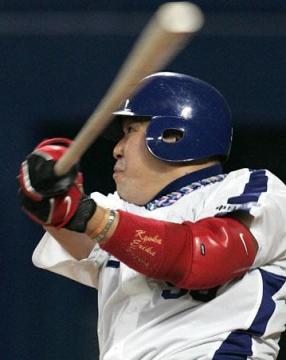 Norihiro Nakamura (wearing #99!)
Pictures from Yahoo! Japan.