Instead of my usual purchase of a pie to take to Thanksgiving dinner, I decided to make my own. From scratch. Well, not quite from scratch.
My grandmother loved to bake and when she was in her 80s (and still baking quite often), I asked her how to make piecrust. She said the best thing to do was buy some premade crust at the store. She said she was too old to make her own. I respect the wisdom of my elders.
However, I did buy apples and a couple spices (my cinnamon and nutmeg I had at home where long past their prime) and I got to baking.
The first I realized that you cannot just drop a full apple in to a pastry shell and have pie. It would be a lot easier. So I was to off to peeling and coring and slicing of six apples. I got out my knives, my peeler, and a big bowl.
After I had finished three apples, I looked at the bowl and like Richard Dreyfus Roy Scheider in "Jaws: the Pie Edition" said, "You're going to need a bigger bowl." So I dug around my kitchen and came up with the biggest pot I could find.
20 minutes later, I had something approximating six sliced apples. And I had all my fingers still intact and no severed arteries.
I think mixed up the spices, sugar, butter (which I was out of so I have margarine, sorry), flour and got to mixing up the apple slices. I thought to myself, "This is going to be one enormous pie if these all fit."
I rolled out the crust and it was too big for my pie pan. But I trimmed off the excess and it turned out that I could fit about 2/3 of the apple slices in. Which was fortunate because I could see some slices were about an inch thick and had seeds stuck in them. So out they went. Then the top crust went on and I cut some ventilation slots and then into the oven it went.
And now we wait ...
Update (25 minutes in) - Item in oven appears to be changing color. Still unsure if it will come out as an actual apple or some unholy concoction of dough, fruit, and sugar that will develop sentient thought and attack me while I'm not looking.
Update (35 minutes in) - Distinct smell of apple pie detected in my apartment. There is hope.
Update (45 minutes in) - Pie appears to need about 10 more minutes. The recipe said 45 to 55 minutes and my oven is not the most accurate or particularly clean. I did not know that pies can make a sizzling noise. But I can see the apples caramelizing through the vent holes.
Final result?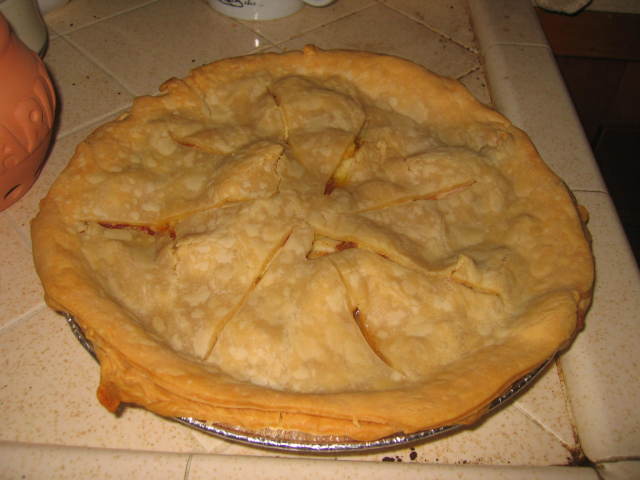 No report on taste until tomorrow night however. The pie is now under wraps at a secret undisclosed location. Such as some place my cat won't go.
Final update
- The pie tasted good although I should have put in more filling as the pie sunk a bit.