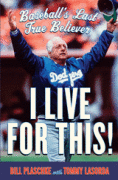 For a man who is supposedly beloved by not just fans of the Los Angeles Dodgers, but by people EVERYWHERE, Tommy Lasorda is not the most popular person. Lasorda decided to give Los Angeles Times sportswriter Bill Plaschke the chance to document in his life in I Live for This. And after a fairly promising start with a look back at the early parts of Lasorda's life and his baseball career, the book devolves into one long complaint by Lasorda and Plaschke about how the post-Lasorda Dodgers lost their way because the organization did not heed the words of a man who apparently will do just about anything to stay in the public eye.

Plaschke's writing style for this book is far better than his columns. There are fleshed out paragraphs. There are good transitions between Lasorda's frequently told tales and flashbacks to his earlier parts of his life. The tales of a combative Lasorda in his early days of pro ball are interesting as well as learning that Lasorda's biggest influence as a manager was Ralph Houk, who managed Lasorda when he pitched for the Denver Bears. Houk impressed upon Lasorda that the best motivational tool for any manager was praise and a pat on the back and not verbal abuse. Lasorda insists that the only player he ever criticized publicly was Fernando Valenzuela at a grievance hearing in 1991, when he told an arbitrator that Valenzuela's career was done. Lasorda claimed he did this out of loyalty to the Dodgers organization and he didn't really mean it. Nevertheless, Valenzuela parted ways with the Dodgers for nearly a decade after it.
In the book, we learn that many of Lasorda's players from his minor league days are still close to him, especially Bobby Valentine and Bill Buckner. But we also learn that the Dodgers of today just don't want to spend time listening to Lasorda spin his yarns over and over again. Plaschke seems to think this is a failing of modern players, although from the book you get the impression that Lasorda is not the sort of person you want to get seated next to on an airplane that's stuck on a taxiway for six hours because of bad weather. Lasorda's stories can go on indefinitely. And some of them have kernels of truth, but many seem embroiderd out of whole cloth.

Plaschke doesn't press Lasorda too much on his three most prominent managerial failures: the 1980 tiebreaker playoff loss to Houston, the loss to the Giants on the last day of the 1982 season that gave the Braves the division, and the decision to have Tom Niedenfuer pitch to Jack Clark in the ninth inning of Game 6 of the 1985 NLCS. Lasorda just says he made a bad decision and moves on. Interestingly, Lasorda thinks that he should have given Valenzuela the start in the 1980 playoff and both he and Plaschke (and the editors of the book) failed to note that Valenzuela had pitched the day before (for two innings) and he was unlikely to last long in the game on zero days rest.

Lasorda's two World Series wins, 1981 and 1988, are given big play by Plaschke and both of them, predictably, give a lot of credit to Lasorda for motivating the Dodgers to win. In Plaschke's view, the Dodgers beat the Mets and A's in 1988 by the sheer power of Lasorda's personality.

After Lasorda stepped down as manager in 1996 after suffering a heart attack (Lasorda claims he quit solely because his wife insisted he do so), the book starts to jump off the rails. The 1997 Dodgers, led by Bill Russell, whom Lasorda had a falling out with, lost the NL West to the Giants because they lacked heart.

Once Rupert Murdoch and Fox buy the team, Lasorda's role with the team was marginalized, although he did get to serve as a GM for a half-season in 1998. Lasorda's trade of Paul Konerko to the Reds for Jeff Shaw is not considered a black mark against Lasorda in Plaschke's viewpoint.

Bob Daly and Kevin Malone eventually shunt Lasorda off even more and the Dodgers keep losing. This is mainly because Lasorda's views aren't heard, according to Lasorda and Plaschke. Plaschke recounts the time during the 2001 Winter Meetings when then Reds GM Jim Bowden refused to meet with Dodgers GM Dan Evans until Lasorda was in the room as something that was necessary for the Dodgers to right themselves. Others might view it as the young BS artist (Bowden) wanting praise from the master BS artist (Lasorda).

Plaschke depicts the 2000 Olympics as one of Lasorda's shining moments as he rode a hastily prepared team of minor leaguers to a surprising gold medal win over Cuba. But in the book, Lasorda comes across as a prototypical "Ugly American" who tries to intimidate the opposing teams by encouraging rough play and continually baiting the umpires. In the gold medal game, Lasorda refused to let his pitching coach, Phil Regan, tell him what starter Ben Sheets's pitch count was. Lasorda was going to leave him out there until the game was over. (I couldn't find the pitch count, but Sheets threw a four-hit shutout and got a lot of ground ball outs, so it likely wasn't too high. According to Repoz at BTF, Sheets threw 103 pitches.)

The book ends with Frank McCourt, then just a prospective buyer of the Dodgers, calling Lasorda early in 2004 asking for his help in running the team. And all is well in the Dodgers world again because Lasorda has returned to give the Dodgers stability.

And since then, the Dodgers have won two divisional titles. They are also on their third manager, their second general manager, and have chewed up and spit out front office employees at a pace that would make George Steinbrenner blanch.

And yet through it all, Lasorda remains a Dodger. He claims to value loyalty more than any other quality and he claims that's why he's been paid by the Dodgers for most of his adult life. Lasorda says he is loyal to the Dodgers above just about everything else. But is Lasorda loyal to the Dodgers or is he just a guy who knows how to survive? Is he "baseball's last true believer" as the subtitle of the book implies or is he the ultimate politician? Plaschke doesn't answer this question. He's too busy admiring the façade that is Tommy Lasorda to find out.