The Boston Red Sox are going to wear an ad for a data storage company, EMC, on their uniforms during their four-game tour of Japan, including the two season-opening games against Oakland. Because nothing says data storage more than "Boston Red Sox."
Earlier tours of Japan had been sponsored by AM/PM markets (which can be found about every four blocks in Japan's larger cities). This was the best picture I could find on short notice.
When I was in Prague, I went to a game in the O2 Extraliga, aka a hockey game.
The Czechs love their ads.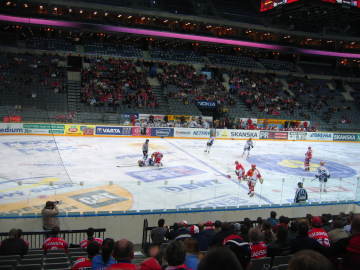 And here's a link to a better photo of the team's uniforms from a couple of years ago.