St. Louis Cardinals fans Sunday got a replica statue of Stan Musial before the game against Tampa Bay.
It was a replica of this statue. (There are Musial bobbleheads you can buy on eBay.)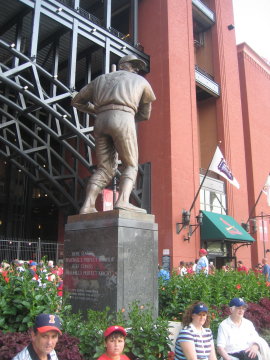 Except it didn't have people sitting in front of it and presumably was small enough for people to carry with them. And probably not in bronze either.
Rick Hummel of the St. Louis Post-Dispatch had a chance to interview Musial.
The statue of Musial placed outside the previous Busch Stadium in 1968 — the fans had that replica Sunday — never was particularly a favorite of his.
"I would have had them change the face, the legs were too thick and they didn't have my stance," he said.

But, over the years, he has grown accustomed to it. And four other smaller statues of Musial have been made.

"There's one down in Springfield, Ill., and one in Springfield, Mo., and there's one here in St. Louis," he said.

Then Musial laughed that playful "tee-hee-hee" laugh and said, "I've got more statues than Lincoln."

The day could come, maybe 10 years from now, when Musial might have to share the torch with Albert Pujols, the modern-day equivalent of Musial. Asked if Pujols, an avowed fan of Musial's career, could break his records, Musial said, "He has a chance to. He loves baseball, he's a good first baseman. ... You know the first time I saw Albert Pujols? He gave me a big hug and kissed me on the forehead."

Not many players have a nine-foot statue and a plaza and street named after them. When it was suggested that Musial shouldn't drive too fast now on his own street, Cardinals vice chairman Fred Hanser smiled and said, softly, "Oh, yes, he can."