As a followup to the popular (at least by my definition) "Know your Sweeneys," today I opt for a much shorter "Know your Guillens."
There are three principal Guillens in the majors. Two of them are prone to tirades and the other can't find a position to play. But there is:
1. White Sox manager Ozzie Guillen, who blew up after his team's 4-3 to Tampa Bay Sunday.
"I expect [general manager] Kenny [Williams] to do something Tuesday. Because if we don't do anything Tuesday, there's [going to be] a lot of change in the lineup. That's all I'm going to say about the offense," said Guillen, whose comments were spiced with an occasional expletive.
Ozzie is beloved by many, hated by many, but he did win the World Series in 2005 with the White Sox, ensuring him a very long leash.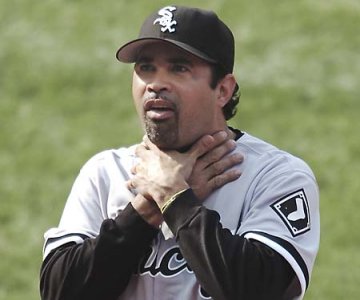 2.
Carlos Guillen
plays whichever position the Detroit Tigers feel he needs to.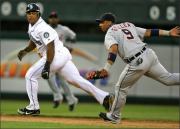 And two other positions where I can't find photographic evidence that he actually played there.
3) Jose Guillen is an outfielder/DH for the Kansas City Royals. I have a vendetta against him. He's prone to tirades too.
Here's a picture from the precipitating event of my Jose Guillen vendetta. It started a while ago.